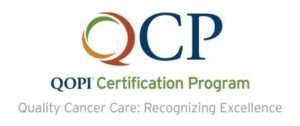 In 2017, Affiliated Oncologists was awarded the Quality Oncology Practice Initiative (QOPI) Certificate of Participation by the American Society of Clinical Oncology (ASCO). QOPI is an oncologist-led, practice-based quality improvement program.
QOPI's goal is to promote excellence in cancer care by helping practices create a culture of self-examination and improvement. The process employed for improving cancer care includes measurement, feedback and improvement tools for medical oncology practices.
Practices are reviewed every three years and certification is awarded when a practice meets QCP's standards. What this means for patients is that a practice location that is QOPI Certified is committed to delivering the highest quality of cancer care.