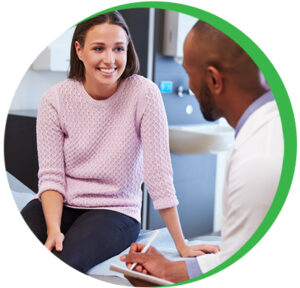 If you have been diagnosed with cancer, seeking a second opinion is a good idea, and often recommended, before making a decision about which specific cancer treatments you will go through.
Every oncologist does their best to accurately diagnose cancer and offer the optimal treatment options. However, different oncologists may also have different approaches to diagnosing and treating cancer. In some cases, getting the opinion of a second cancer treatment specialist may open up more options than you thought you had. It's worth the conversation even if you choose to stay with the first oncologist you consulted with.
What is a Medical Second Opinion?
When seeking a second opinion about a cancer diagnosis, you will meet with a different oncologist – either at a completely different oncology practice or someone else at the same practice. Together you will go over all of the same information you reviewed with the first oncologist including family history and your own medical history. This specialist will also review the test results and studies performed already before sharing their own opinion on the cancer diagnosis and the recommended treatments. There may be some additional tests requested by the oncologist giving the second opinion.
While many cancer patients use online resources to get additional information about their cancer diagnosis and the available treatments, getting a second opinion from a board-certified oncologist is going to give you answers specific to your case. Information found on the internet can't do that for you. Getting a second opinion from a reputable oncologist is the best way to make sure you understand your diagnosis and have explored all of your options thoroughly.

Why is a Cancer Diagnosis Second Opinion Recommended?

Besides finding out if there is another recommended treatment plan there are other benefits of talking to at least one more oncologist before starting cancer treatment. Some of the other benefits of getting a second opinion include:
Peace of Mind
Making decisions about treatment in the face of a cancer diagnosis is often overwhelming. Because the stakes are high, you want to be sure you are making the right choices. A second oncologist will not only be able to confirm your diagnosis, but they will also be able to recommend treatment options to help you make the best decision. Just as you evaluate a few options when considering a large purchase, a similar approach is helpful when making a big decision such as where to receive cancer treatment.
Varying Expertise & Experience Can Impact the Recommended Treatments
Every oncologist should be open and honest about your cancer diagnosis, your prognosis and the different treatment options available. However, different oncologists may have different backgrounds, with more experience treating specific types of cancer, participating in cancer research or using certain approaches to treatment. Because of each oncologist's background, experiences and area of clinical focus, different recommendations may be made. Considering two different perspectives can make it easier for you to decide how to move forward.
Access to Clinical Trials
New clinical trials are made available all the time. Not all oncologists are aware of the same clinical trials or have access to the same resources. For this reason, the treatment that you are able to receive may differ depending on the practice you choose. When you seek a second opinion, you may have more options with regard to clinical trials.
Comfort Level With the Oncologist
Feeling comfortable with the oncologist and the cancer center staff is going to be critical during this period. You'll see them often and need to be able to feel you can open up to them. If you weren't fully comfortable with any aspect of the interaction with the first oncologist or the support team, seeking a second opinion is highly recommended.
The person in charge of your cancer treatment needs to be more than knowledgeable and experienced. They also need to be an empathic person who can communicate easily with you and your family members. You should not feel rushed or as though they're talking over your head with terms you don't understand. If you feel that way, ask them to slow down and explain everything in simpler terms to see if they would be able to communicate well with you in the future.

Will I Have to Pay for a Second Opinion?
In most cases, your second opinion will be covered by your insurance plan. In fact, some insurance plans will require a second opinion when a cancer diagnosis is made. For specific information about your insurance coverage, contact your provider.
What to Expect at Your Appointment
Most oncologists conducting a second opinion appointment will want to see:
The details of your diagnosis
Blood test results
Biopsy results
All imaging studies
Your recommended treatment plan
If other documentation or tests are needed, your oncologist's office will let you know.
After reviewing this information, the oncologist giving the second opinion will let you know whether or not they agree with the diagnosis and recommended treatment. If there are other options that could be available for your type and stage of cancer that were not offered already, these can be discussed as options including the pros and cons of each path.
Will My Oncologist be Insulted if I Get a Second Opinion?
A competent physician should not be offended by a patient seeking a second opinion. In addition, patients should not worry that a doctor will be upset if they decide to seek treatment elsewhere.
At Affiliated Oncologists, our cancer specialists, nurses and support staff want you to seek treatment where you're most comfortable. We often see patients from the greater Chicago area who would like to learn more about treatment options available at our cancer treatment centers located in Chicago Ridge, Mokena, Hazel Crest, Tinley Park, New Lenox, Palos Heights and Oak Lawn.
If you choose to go with the second oncologist you meet, place a call to the first oncologist's office to inform them of your decision as a courtesy.
We invite you to schedule an appointment with one of our oncologists for a second opinion if you feel this is right for you. We'll be happy to discuss your diagnosis, the treatment options, and the supportive services available through our practice that are available to help as you progress through treatment.
Our patient schedulers will match you with the oncologist who will be best for your needs, or let us know if you have a specific person in mind based on a friend or family member's recommendation.