March 4, 2022
5 Ways Clinical Trials Benefit Cancer Patients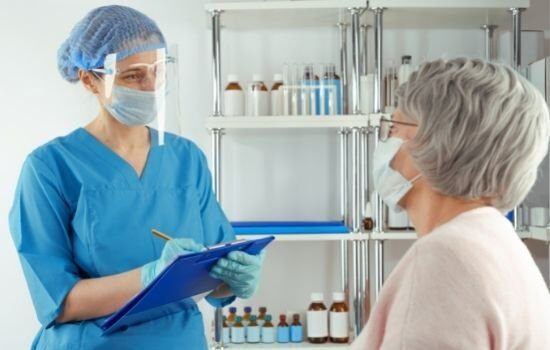 A clinical trial is part of the medical research required to test every new treatment before it can be made available to patients. Clinical research trials are carefully conducted studies of new medications, combinations of medications, surgical procedures or devices, diagnostic tools, or screening processes to better treat different types of cancer.
Long before the clinical trial begins, the proposed treatment is subjected to extensive research, development, and laboratory studies. Initial research provides scientific evidence to support testing the treatment with actual patients moving forward.
If your oncologist has suggested that you consider participating in a clinical trial, you will have many questions. Your oncologist can provide answers, including the pros and cons of joining.
What is the Point of a Clinical Trial?
Clinical research trials test new treatments for most diseases and conditions, including cancer. Each clinical research trial is designed for a specific type of patient at specific stages of the disease. In some cases, the patient will have already gone through some cancer treatments to be eligible to participate. Every study is different so it can evaluate the effectiveness and safety of various treatment options.
People who participate in clinical trials may have some extra oncology appointments or additional tests done as part of the trial. All of the side effects and the results of the treatment are carefully documented. This information is then analyzed together with the other participants' information, usually from across the United States, to determine whether the new treatment is better than the current options for that particular group of patients.
Are There Different Types of Clinical Trials?
There are four phases of clinical trials to develop a new cancer treatment. Phases 1 and 2 are testing a drug earlier in its process of becoming a new treatment option. Phase 3 trials tend to compare the new treatment to the current standard treatment option to determine if it's better. Phase 4 trials typically evaluate already approved drugs to see how they can work better when combined with various treatments or given in a different way.
Rules are put in place to help avoid bias in the study and the entire process is overseen by oncologists and research coordinators.
What are the Benefits of Participating in a Cancer Research Trial?
1. You're Given Early Access to the Latest Cancer Treatments
Some trials are testing new therapies and others are testing the most recent combination that oncologists believe will have a better outcome than what's available today. For some patients who have tried other treatments without success, a clinical trial can offer a cancer treatment solution that would otherwise be unavailable.
2. There Are No Additional Costs to the Patient for Clinical Trial Participation
Every trial is different but, in some cases, the study covers the cost of treatment. In other cases, the patient's insurance covers the standard care and the study covers any additional appointments that may be needed, as well as the cost of the drug(s) being studied.
The study doctor and the research coordinator will take the time to go over what exactly is covered by the trial and what will be the patient's responsibility. They will explain what your insurance will cover. The Affordable Care Act requires that health insurance covers routine care costs for people participating in approved clinical trials. Insurers cannot drop or limit coverage if a member joins a clinical trial.
3. You Have Local Access to Cancer Research in the South Chicago Suburbs
The cancer research team at Affiliated Oncology offers access to cancer research trials in our local communities including Chicago Ridge, Mokena, Hazel Crest, Palos Heights, and Oak Lawn. You will see the same cancer care team throughout your treatment each time you visit, including a research coordinator, who will ask questions about how you're feeling and any side effects so they can monitor them carefully to help you and to report them to the study.
4. You're in Control
Clinical trial participation is voluntary. You will never be included in a clinical research study without your full and informed consent. In fact, you need to sign an informed consent document that confirms you've been given the study details before you can begin. If you change your mind about participating, you can leave the trial at any time. However, many patients find the extra attention to their needs during cancer treatment a positive experience.
5. Help Advance Cancer Treatments for Future Patients
You can help advance cancer treatments for patients with the same disease. Not only can it help you, it has potential to improve outcomes for future patients like you. It's not often that we get to do something heroic. Everyone who participates in cancer research trials is a hero to future cancer patients.
Are Clinical Trials Safe?
Every clinical trial must follow strict rules that ensure safety and ethics. Ongoing reviews, approvals, and monitoring of the trial are required by scientific experts, Institutional Review Boards, Data and Safety Monitoring Boards, the US Food and Drug Administration, the trial sponsor, and the research team.
Affiliated Oncology is part of the US Oncology Research Network, an independent group that makes clinical trials available to cancer patients throughout the United States.
Your personal health information and test results are kept confidential. Only the results of your treatment need to be shared to create study results. Your unique information is encoded so that your name and personal data are never used in any published clinical trial results.
It's important to understand the common risks associated with participation and how safety will be monitored. All clinical trials have some risks, and they may include:
Unknown side effects or other unpredictable risks, especially if it's a newer drug.

You may not be helped by the new treatment. There is a possibility you'll be removed from the study if your body doesn't respond to the treatments given.
If the potential benefits outweigh the risks, you may accept the risk to improve your cancer outcome. Ask your oncologist what benefits you are likely to reap.
How Do I Find a Clinical Trial for My Type of Cancer?
Affiliated Oncology participates in a large number of clinical trials, just one of the many advantages we offer our patients. Check out the clinical trial frequently asked questions for more information or speak with an oncologist to see if you're a candidate for any clinical trials available in the South Chicago area, including Chicago Ridge, Mokena, Hazel Crest, Oak Lawn, and Palos Heights. Our specialists can provide you with specific details about participation that are unique to you and your stage of cancer.
Categories: Clinical Trials & Research