August 4, 2023
Greater Hope for Improved Outcomes Thanks to Advances in Lung Cancer Treatment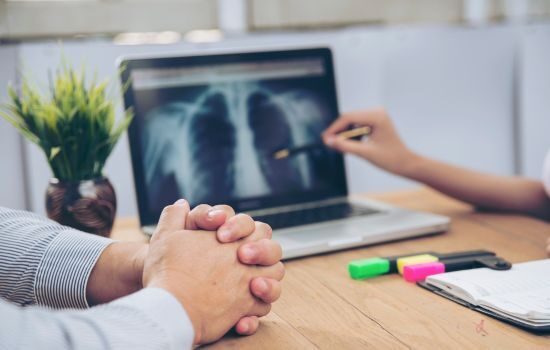 Treating lung cancer has come a long way over the past decade. There are more options for lung cancer patients than ever before, especially patients with non-small cell lung cancer. This is a result of the therapies tested through clinical research trials with patients who have the same type of cancer. It's also because of a new understanding of how our genes mutate over time, leading to some types of cancer, including lung cancer.
What used to be a much more difficult path to recovery is now a more hopeful journey for lung cancer patients due to these advancements in treatments.

Using Your Body's Own Immune System to Fight Lung Cancer
One type of lung cancer treatment that has made huge strides over the last several years is immunotherapy. Immunotherapy is considered a type of biological therapy. It uses drugs to boost your own immune system to fight cancer. Today, immunotherapy provides better outcomes for patients diagnosed with all types of lung cancer, including small-cell and non-small-cell lung cancer.
Immunotherapy drugs work by activating your immune system to target cancerous cells that can often go undetected by your body's natural defense system. It does this by looking for specific proteins on the surface of the cancer cells. Various tests help identify which type of protein is fueling the cancer's growth. Once it's pinpointed, the oncologist can choose the most appropriate immunotherapy drug for the patient.
Checkpoint Inhibitors for Lung Cancer
Cancer cells can often go undiscovered because they are able to "hide" as healthy cells. Checkpoint inhibitors stop cancer cells from doing this. When they are no longer hidden, they can be recognized by your immune system, which allows the cancer treatments to work effectively against them. These drugs vary based on the type of protein identified on the surface of the cancer cells.
PD-1 Protein Inhibitors:
pembrolizumab (Keytruda®)

nivolumab (Opdivo®)

cemiplimab-rwlc (Libtayo®)
PD-L1 Protein Inhibitors:
durvalumab (Imfinzi®)

atezolizumab (Tecentriq®)
CTLA-4 Protein inhibitor
Monoclonal Antibodies for Non-Small Cell Lung Cancer
Monoclonal antibodies are lab-made immune system proteins that mimic your natural ones. They are designed to attach to antigens in cancer cells with the goal of restricting the growth of blood vessels so the cancer cells will die. Two drugs are primarily used for non-small cell lung cancer patients at this time.

bevacizumab (Avastin®)

ramucirumab (Cyramza®)
The Use of Immunotherapy in Lung Cancer Treatment & What to Expect
Whether used alone or in combination with other lung cancer treatments, such as chemotherapy and radiation therapy, immunotherapy drugs have consistently proven effective.
Compared to other treatments, immunotherapy is usually better tolerated by patients. Still, there are some side effects to take into consideration. Different types of immunotherapy can cause different types of side effects, which are dependent upon a variety of factors.
The challenging part about immunotherapies is deciding what patients will benefit from them the most. The Affiliated Oncologists' lung cancer specialists can help you determine if immunotherapy is right for you. If immunotherapy does become part of your treatment plan, you'll be given an explanation of the side effects you might experience.
Targeted Therapies for Non-Small Cell Lung Cancer Genetic Mutations
Another relatively new lung cancer treatment breakthrough is targeted therapy. Targeted therapy uses drugs to precisely treat non-small cell lung cancer that is fueled by specific types of mutations in the cells.
How Do Genetic Mutations Lead to Lung Cancer?
The type of genetic mutation that leads to lung cancer is not usually inherited. For most people, it's the result of the environment they lived in throughout their lives. Exposure to chemicals, especially smoke, radon, or other chemicals, can cause genes to mutate over time.
Depending on which gene has mutated, specific targeted therapy may be available, with more being researched every day. Patients who were diagnosed with non-small cell lung cancer will usually go through biomarker or molecular testing to see if any of these genetic abnormalities are present within the tumor. If the results come back positive for a mutation, addition, deletion, or rearrangement in the patient's DNA, a treatment decision can be made.
Due to its precision, targeted therapy leaves healthy, normal cells alone. This is good news for lung cancer patients as it typically means fewer side effects. Traditional chemotherapy, on the other hand, affects both cancer cells and healthy cells.
Which Genetic Mutations Have Treatments Available for Lung Cancer?
Targeted therapies continue to emerge for advanced non-small cell lung cancer. Most of the targeted therapies available now are FDA approved for metastatic non-small cell lung cancer patients, which means their cancer has spread beyond the lungs to other areas of the body.
FDA-approved targeted therapies are currently available for non-small cell lung cancer tumors showing gene mutations in any of the following areas:
EGFR

ALK

ROS-1

NTRK

MET

RET

BRAF V600E
Targeted therapy can be used alone or in combination with other treatments. Even though it isn't widely used for non-small cell lung cancer patients now, it could be in the future.
Other treatments are available for patients whose biomarker testing doesn't show a mutation in one of these genes. This could include chemotherapy and/or radiation to kill the lung cancer cells.
Clinical Trials Study New and Effective Ways to Treat Lung Cancer
At Affiliated Oncologists, we understand the importance of clinical trials when it comes to improving treatments for lung cancer patients. Through clinical trial research, standard treatments can be improved, and/or new treatments can become available — not just for lung cancer but for all types of cancer. If clinical trials show that a new treatment is more beneficial or effective than the treatments that are currently available, the new treatment may become the new standard.
Through our participation in clinical trials, Affiliated Oncologists is able to contribute to the advancement of personalized lung cancer treatment for cancer patients here in the South Chicago suburbs. We currently have several clinical trials open for patients who are at various stages of lung cancer. Learn more by visiting our lung cancer clinical research page.
If one of our lung cancer doctors recommends a clinical trial as a treatment option, the choice to participate is always optional. Clinical trials are often only available in major hospital systems in large cities. But patients in the South Chicago area can find lung clinical trials at select Affiliated Oncologists' locations. Offering the latest therapies locally allows patients to stay close to home, near their support system of family and friends.
The Latest Lung Cancer Treatments Available in the South Chicago Suburbs
If you or a loved one has recently been diagnosed with lung cancer, it's important to have a cancer care team using the latest technologies to develop a comprehensive and personalized treatment plan. With so many appointments during your treatment process, we know how much you can benefit from staying close to home. Affiliated Oncologists has clinics throughout the South Chicago suburbs, including Chicago Ridge, Hazel Crest, Mokena, Oak Lawn, and Palos Heights, Illinois. Request a consultation with one of our cancer specialists.
Categories: Lung Cancer