September 15, 2021
Head and Neck Cancer: Questions to Ask Your Cancer Care Team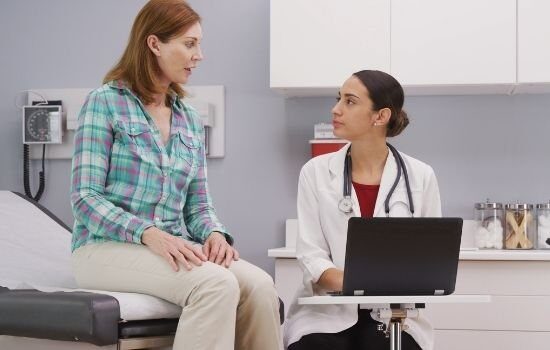 Once you receive a head and neck cancer diagnosis, it's only natural that you'd have questions about your condition and what to expect for the future. Asking questions is a great way to learn more and could even put some of your worries at ease. While your oncologist will go over the information that you need to know, it's always a great idea to have a few questions prepared so that you can be an active participant in your treatment process.
Remember, communicating with your healthcare team is important and helps you stay informed about your health and future. The suggested questions are intended to jump-start the conversation with your cancer care team and ask the questions that matter the most to you. Everybody is unique, and your concerns may be specific to your lifestyle. Keep in mind; it's also helpful to take notes during your appointments so you can look back on the information you gathered.
Here are a few questions that we think can be useful to understand about head and neck cancer.

Initial Diagnosis of Head or Neck Cancer
Depending on the type of head or neck cancer, there are specific questions that might apply to you. Head and neck cancers are often categorized by where the cancer develops. The most common include oral cavity cancer, laryngeal cancer, and hypopharyngeal cancer. Other types of head and neck cancers inlude cancer of the salivary glands, nasopharynx, oropharynx, paranasal sinuses, and nasal cavities. It helps to learn as much as possible about your particular cancer, including where it's located, its size, and how advanced it is. This information can help you narrow down the type of treatment options and help you prepare for your future.

Questions to ask after getting a diagnosis:
Head and neck cancer refers to tumors that are located in and around the head and neck area, including the throat, larynx, mouth, nose, and sinuses. What type of head and neck cancer do I have?

Where is the tumor located? The location of the tumor may play a critical role in the treatment and recovery process.

What stage is the cancer? What does this mean?

When you had a biopsy a report was produced called the pathology report. What did my report say about my diagnosis? Why should I know if the tumor was caused by HPV?

Should I get a second opinion? How do I go about getting one?
Choosing a Treatment for Head or Neck Cancer
Choosing treatment options includes many different steps. First, you'll need to have a clear understanding of all of the questions asked above. From there, you and your medical team will work together to create a plan that works for your type of head and neck cancer with considerations given to your medical history.

Questions to ask about choosing a treatment and managing side effects
What are my treatment options? Treatment options can vary, but it's important that you know exactly what is available to you.

What are clinical trials? What makes me a good candidate for clinical trials?

What clinical trials are available for me? Where are they located, and how do I find out more about them? Clinical trials may be a solution for some patients, and you'll want to know the details of what it looks like to use this treatment option.

What treatment plan do you recommend? Why?

What is your experience with the recommended treatment plan?

What is the goal of each treatment? Does the treatment destroy the cancer, help with symptoms, or both?

What are common side effects and complications? Are they short-term or long-term side effects?

Who will be part of my health care team, and what is their role?

Who is my point of contact?

Who will be leading my overall treatment?

Can you recommend an oncologic dentist?

Should I see a speech-language pathologist before starting treatment?

How will this treatment affect my daily life? Will I be able to work, exercise, and perform my usual activities?

Could this treatment affect my sex life? If so, how and for how long?

Could this treatment affect my ability to become pregnant or have children? If so, should I talk with a fertility specialist before cancer treatment begins?

Who do I ask about the cost of care?

What support services are available to me?

Are there any support services available to my family?

If I have questions or problems, who should I call?
Surgery for Head or Neck Cancer
Surgery is one treatment option that may be available for head and neck cancer patients. It's important that you know what you should expect before, during, and after surgery so that there are no surprises along the way.

Questions to ask about having surgery
Is surgery absolutely necessary?

What type of surgery do you recommend and why?

What is your experience with performing the recommended surgery?

Will any lymph nodes need to be removed? If so, what type of neck dissection will be done? What does this mean?

How long will the operation take?

How long will I be in the hospital?

What should I expect during recovery? Knowing this information will help you plan accordingly and put in place any additional support you may need during this time.

Who is my point of contact if I experience any side effects?

What are the possible long-term effects of having this surgery?

Will this surgery affect my speech or ability to chew and swallow?

How will this surgery affect my appearance?

Will I need to have reconstructive surgery to replace lost tissue?
Radiation Therapy or Systemic Therapy for Head and Neck Cancer
Other treatment options may include radiation and systemic therapy. The most common systemic therapy is chemotherapy, but other types of treatments such as immunotherapy can be considered systemic. It's important to learn what these treatments are and the potential side effects. Any head or neck cancer treatment is going to be a journey, and it's helpful to understand the process from start to finish.

Questions to ask about having radiation therapy or systemic therapy using medication
Do I need to have chemotherapy or another systemic cancer treatment?

Do I need to have a port put in place for my chemo treatments?

What type of radiation treatment is recommended, if any?

What is the goal of this treatment? For example, sometimes the goal is to shrink a tumor before surgery. Other times it's to be sure all cancer cells are killed in the area around the surgery site. And in some cases, the goal of treatment changes as time goes on.

How will radiation therapy be given with external or internal radiation?

Will this treatment be given at a hospital, a clinic, or in my home?

How long will I need to continue this treatment? Knowing the length of time for each treatment session and how many sessions you're likely to need will help you with planning your day-to-day routine. What side effects can I expect during treatment?

Who should I contact about side effects?

What are the possible long-term effects of having this treatment?

What can be done to prevent or manage these side effects?

Are any of these treatments considered experimental?

Is a research trial available if I wanted to participate?
Follow-Up Care Questions
Once you've completed head and neck cancer treatment, you must still complete follow-up care. Follow-up care can look a little different for everybody, so it's important that you know what your cancer care team expects. Most cancer survivors need to come in for periodic checkups, tests, and scans.

Questions to ask about planning follow-up care
Will I need physical therapy, speech therapy, or another type of rehabilitation after finishing treatment?

What is the chance that the cancer will come back? Should I watch for specific signs or symptoms?

What long-term side effects or late effects are possible based on the cancer treatment I received?

What follow-up tests will I need, and how often will I need them?

How do I get a treatment summary and survivorship care plan to keep in my personal records?

Who will be leading my follow-up care?

What survivorship support services are available to me?

Are there any support services available to my family?
At Affiliated Oncologists, we are committed to providing information and resources to each of our patients. Use the above guide during your scheduled visits to help you communicate better with your medical team. If you have been given a diagnosis or looking for a second opinion we invite you to book an appointment with one of our head and neck specialists in the Chicagoland area.

Categories: Head and Neck Cancers