July 30, 2021
What You Need to Know if You Are Considering a Clinical Trial for Cancer Treatment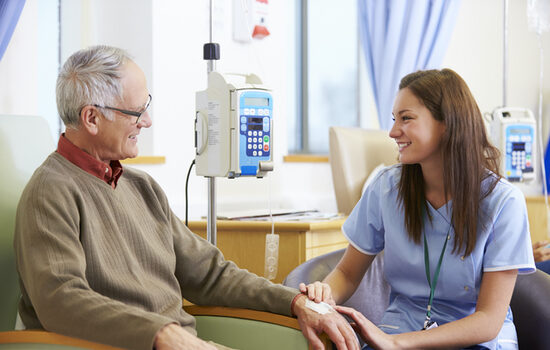 When researchers develop new cancer treatments, they must test them on cancer patients to be sure they're effective and safe. Clinical trials are long-term, scientific studies that test and compare results of new cancer treatments to the existing options for that type of cancer. Or, in some cases, it's an entirely new treatment entirely for a particular type of cancer. It's important to understand how well it works as well as the type and severity of side effects. The goal of the clinical trial process is to receive an FDA approval of the treatment so all patients with the same type of cancer have it as a treatment option.
Before a cancer research trial gets to humans, extensive medical research has shown positive results in a laboratory. There are several phases of the trials in humans, progressing from a very small group to a much larger group before the FDA will approve it.
Clinical trials are available for just about every type and stage of cancer. Each trial has a protocol that clearly describes who is eligible to participate. This can include type and stage of cancer, previous treatments, location of any distant cancer cells, and other requirements that ensure that the same types of patients are being tested.
What You Need to Know Before Joining a Clinical Trial for Cancer
Clinical trials are available for many different types of cancer. It's not required that you participate. Some people consider participation as a way to give back to society and help future cancer patients. But trials aren't always available for every patient. The Affiliated Oncologists cancer research team can help you determine if there is one that is appropriate for you.

To make an informed decision about joining a clinical trial, explore these five areas:
1. Ask Questions So You Feel You Really Understand the Clinical Trial and Its Purpose
Get clear answers to these questions, plus your own questions. Be sure you fully understand every answer.

What is the purpose of this clinical trial?

How long will it last?

What's the deadline to join?

In what phase of research is this trial? The higher the phase (I – IV), the more researchers will know about how treatment can affect you.

Who will be in charge of my care?

Will I continue to see my current cancer doctor?

What are my treatment options if I don't participate?

What are the pros and cons of standard treatment versus study treatment?

Will I be able to continue my daily activities and go to work?

What tests will I need, and who will pay for them?

Does the treatment being studied have known side effects?

Are there risks to this treatment? How do they compare to the risks of standard treatment?

Will my insurance cover the clinical trial treatment?

If the treatment works for me, will I keep getting it after the trial ends?

If I don't respond to the treatment being studied, what would we try next for cancer treatment?

Where can I get more information about the trial?
2. What Are the Risks Versus Benefits of Participating In a Cancer Research Trial
Most clinical trials have these potential benefits:

This is the most recent advancement in treatment for your type of cancer, available only to those who participate in the trial

Help others by advancing cancer research

It may pay for part or all of your medical care during the trial

More personal attention from your cancer care team

Taking an active role in your health care may enhance your sense of control over cancer
Potential risks of a clinical trial include:

New treatment may have side effects or other risks that are worse than the standard treatment

More doctor visits require more time and travel

The treatment may not help you

There may be costs your insurance doesn't cover. Insurance companies are required to pay for standard treatment. Check with your insurance company before joining. Medicare normally pays for cancer care if it's part of a clinical trial for cancer diagnosis and treatment, but not for prevention.
After weighing the pros and cons of participation, and talking with your doctor, decide if the benefits outweigh the risks. Remember, any medical test, treatment, or procedure has risks. Cancer patients are often willing to accept risk for the hope of successful treatment and possible remission.

3. How Is My Safety Protected During a Clinical Trial for Cancer Treatment?
Federal rules ensure that your rights and safety are protected in three ways:

Informed consent is required, meaning all participants are given study details, their questions are answered, and they're given time to decide without pressure from anyone.

An Institutional Review Board (IRB) must approve the clinical trial protocol before it begins. The review is done by scientific experts not connected with the trial.

A Data Safety Monitoring Board (DSMB) is required for phases I through III clinical trials to ensure the trial is being conducted in a safe manner, and to determine when to conclude a trial based on significant benefits or significant risks that are evident. The extent of monitoring is correlated with how large the study is and how complex the study may be.
4. Is Clinical Trial Participation Right for Me?
The decision to participate in a cancer research trial is very personal. You may need some time to consider it and talking it through with your loved ones can help.

Ask yourself these questions:
Why do I want to participate in this clinical trial?

What are my goals, and what do I expect to gain or lose? Are my expectations realistic?

Am I comfortable with a level of risk that this treatment won't work?

What does this trial offer that the standard of care does not?

Do I have any concerns about participating?

Do the benefits of participating outweigh my risks?

Do I clearly understand other treatment options if I don't participate?
5. How to Find a Clinical Trial in the Southern Chicago Suburbs
You don't have to change your cancer care team if you are a patient at Affiliated Oncologists and would like to participate in a clinical trial. We work with US Oncology Research to offer clinical trials for many different types of cancer right here in the southern suburbs of Chicago.

In some cases your oncologist may recommend a clinical trial as the best option for cancer treatment. You can also tell your oncologist that you're interested in learning more about any trials that may be available to you.
Your treatment results will be carefully documented to share with those running the clinical trial. That may mean you'll need some additional follow up appointments. However, all of your care remains local and convenient for you.
You can help advance important cancer research. Talk about options with your Affiliated Oncologists doctor at your next appointment, or request a consultation at a location near you.

Categories: General Cancer, Clinical Trials & Research