Because there are many types of breast cancer, there need to be different treatment options. Even though effective, well-established breast cancer treatment protocols exist, there are always new drugs on the horizon to be tested. That's where clinical research trials come into play— particularly taking a closer look at possible new combinations of breast cancer treatment therapies and, in some cases, entirely new treatment options. In recent years, immunotherapy and targeted therapies have been tested for breast cancer. These treatments are starting to be more widely available to patients, thanks to cancer research trials.
Affiliated Oncologists provide our patients with access to the latest clinical trials for breast cancer right here in the southern Chicago area including Chicago Ridge, Mokena, Hazel Crest, Palos Heights, and Oak Lawn, IL.
Why Are There Clinical Trials for Breast Cancer?
Clinical trials test new drugs and treatments not used before or used in combination with existing drugs and treatments that haven't been tested before. The new type of treatment needs to be thoroughly tested and then approved before it is available to patients. Before a new breast cancer treatment is introduced to patients across the country, certain FDA (U.S. Food and Drug Administration) requirements must be met to show that the cancer treatment is effective and safe.
If the new cancer treatment can be proven safe and effective for the types of patients the trial has targeted, then the FDA will be able to approve it for use among patients in the U.S. with the same type of cancer.
Are There Clinical Trials Available in the Chicago Area for Triple-Negative Breast Cancer Patients?
Breast cancer treatment is based on hormone receptors that are or are not present. Therefore, your oncologist will first run a test to see if one of three different hormone receptors is influencing your breast cancer. If the cancer cells lack any hormone receptors it is considered triple-negative breast cancer.
Because triple-negative breast cancer is such an aggressive type of cancer with fewer well-defined treatment options, it is at the forefront of breast cancer research in hopes of finding a combination of therapies that work to battle it. If you have been diagnosed with this type of breast cancer, you may be offered a clinical trial as part of this significant research effort to find a widely-acceptable treatment plan.
Search breast cancer clinical trials available at Affiliated Oncologists.

RELATED READING:
What is Triple-Negative Breast Cancer and Why is it Difficult to Treat?
Read Now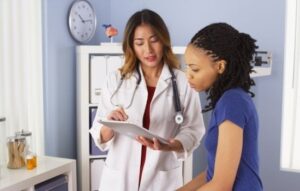 Is a Breast Cancer Clinical Trial Right for Me?
Participating in a clinical trial is completely voluntary and a decision that should only be made after careful consideration. However, if it is something that interests you, please talk with your oncologist. If your oncologist thinks you would be a good fit for one of the breast cancer research trials, the next step will be to meet with a clinical research coordinator at one of our South Suburban area locations to review the trial's selection criteria, which vary for each research treatment.

While the treatments being researched by the breast cancer specialists at Affiliated Oncologists have already been proven safe for humans, you will still be carefully monitored to determine the effectiveness of the treatment. You will also be watched for side effects. If a particular treatment isn't working for you, the research team will meet to determine if a different treatment option is available for you.
It's our hope that the clinical trial results will make a helpful impact and ultimately provide new, successful, FDA-approved treatment options for breast cancer.
Clinical Trials Available in the Chicago Area
At Affiliated Oncologists, we are involved with several clinical trials in the southern Chicago suburbs. In addition to our many breast cancer trials, we offer trials for lung cancer, colon cancer, prostate cancer, ovarian cancer, and many more. We consider providing our community with access to promising new therapies that may become tomorrow's gold standard a top priority. Ask your breast cancer care specialists for more information regarding clinical trials.