Women with breast cancer have many treatment options. The treatment that's best for one woman may not be best for another. Breast cancer treatment may include one or a combination of the following treatments including:
Breast Cancer Surgery
Surgery is the most common treatment for breast cancer. Your doctor can explain each type, discuss and compare the benefits and risks, and describe how each will change the way you look:
Breast-sparing surgery: This is an operation to remove the cancer but not the breast. It's also called breast-conserving surgery. It can be a lumpectomy or a segmental mastectomy (also called a partial mastectomy). Sometimes an excisional biopsy is the only surgery a woman needs because the surgeon removed the whole lump.
Mastectomy: This is an operation to remove the entire breast (or as much of the breast tissue as possible). In some cases, a skin-sparing mastectomy may be an option. For this approach, the surgeon removes as little skin as possible.
The surgeon usually removes one or more lymph nodes from under the arm to check for cancer cells. If cancer cells are found in the lymph nodes, other cancer treatments will be needed.
You may choose to have breast reconstruction. This is plastic surgery to rebuild the shape of the breast. It may be done at the same time as the cancer surgery or later. If you're considering breast reconstruction, you may wish to talk with a plastic surgeon before having cancer surgery.
In breast-sparing surgery, the surgeon removes the cancer in the breast and some normal tissue around it. The surgeon may also remove lymph nodes under the arm. The surgeon sometimes removes some of the lining over the chest muscles below the tumor.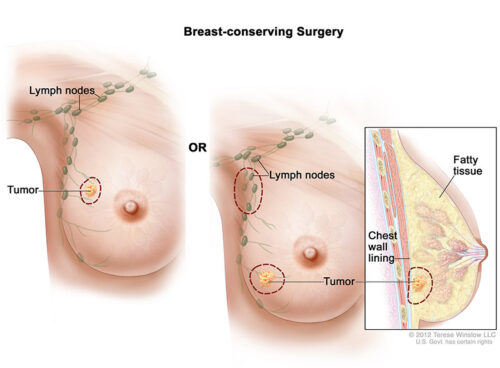 In total (simple) mastectomy, the surgeon removes the whole breast. Some lymph nodes under the arm may also be removed.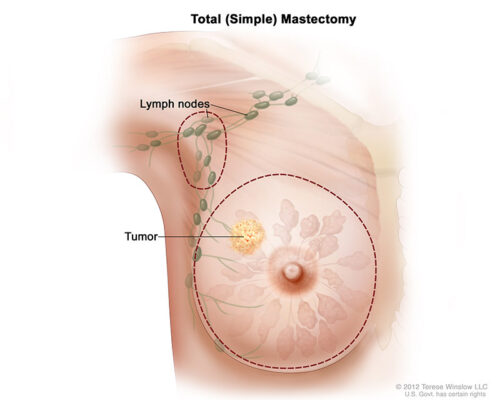 In modified radical mastectomy, the surgeon removes the whole breast, and most or all of the lymph nodes under the arm. Often, the lining over the chest muscles is removed. A small chest muscle also may be taken out to make it easier to remove the lymph nodes.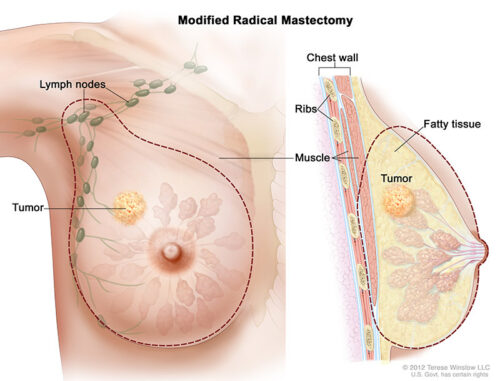 Radiation Therapy for Breast Cancer
Radiation therapy (also called radiotherapy) uses high-energy rays to kill cancer cells. It affects cells only in the part of the body that is treated. Radiation therapy may be used after surgery to destroy breast cancer cells that remain in the area.
Doctors use two types of radiation therapy to treat breast cancer. Some women receive both types:
External radiation therapy: The radiation comes from a large machine outside the body. You will go to a hospital or clinic for treatment. Treatments are usually 5 days a week for 4 to 6 weeks. External radiation is the most common type used for breast cancer.
Internal radiation therapy (implant radiation therapy or brachytherapy): The doctor places one or more thin tubes inside the breast through a tiny incision. New York Oncology Hematology also uses Mammosite technology to place a radioactive substance in a tube so it can be directed at the cancerous cells.
Chemotherapy for Breast Cancer
Chemotherapy is often used after surgery to remove the breast cancer tumor. If the cancer was found in nearby lymph nodes, there's a chance that cancer cells have spread throughout the body and must be killed using chemotherapy drugs that circulate throughout your entire system. The drugs that treat breast cancer are usually given through a vein (intravenous) or as a pill. You'll probably receive a combination of drugs. Radiation therapy is often given as another type of treatment on days when you're not receiving chemotherapy.
The cancer specialists will develop a plan that's right for you. At Affiliated Oncologists, chemotherapy is given in the comfort of our infusion suite located in the South Chicago suburbs.

Some anticancer drugs can damage the ovaries. If you have not gone through menopause yet, you may have hot flashes and vaginal dryness. Your menstrual periods may no longer be regular or may stop. You may become infertile (unable to become pregnant). For women over the age of 35, this damage to the ovaries is likely to be permanent.
On the other hand, you may remain able to become pregnant during chemotherapy. Before treatment begins, you should talk with your doctor about birth control because many drugs given during the first trimester are known to cause birth defects.

Hormone Therapy for Breast Cancer
Hormone therapy may also be called anti-hormone treatment. If lab tests show that the tumor in your breast has hormone receptors, then hormone therapy may be an option. Hormone therapy keeps cancer cells from getting or using the natural hormones (estrogen and progesterone) they need to grow.
Options before menopause
If you have not gone through menopause, the options include:
Tamoxifen: This drug can prevent the original breast cancer from returning and also helps prevent the development of new cancers in the other breast. As treatment for metastatic breast cancer, tamoxifen slows or stops the growth of cancer cells that are in the body. It's a pill that you take every day for 5 years.
In general, the side effects of tamoxifen are similar to some of the symptoms of menopause. The most common are hot flashes and vaginal discharge. Others are irregular menstrual periods, thinning bones, headaches, fatigue, nausea, vomiting, vaginal dryness or itching, irritation of the skin around the vagina, and skin rash. Serious side effects are rare, but they include blood clots, strokes, uterine cancer, and cataracts.
LH-RH agonist: This type of drug can prevent the ovaries from making estrogen. The estrogen level falls slowly. Examples are leuprolide and goserelin. This type of drug may be given by injection under the skin in the stomach area. Side effects include hot flashes, headaches, weight gain, thinning bones, and bone pain.
Surgery to remove your ovaries: Until you go through menopause, your ovaries are your body's main source of estrogen. When the surgeon removes your ovaries, this source of estrogen is also removed. (A woman who has gone through menopause wouldn't benefit from this kind of surgery because her ovaries produce much less estrogen.) When the ovaries are removed, menopause occurs right away. The side effects are often more severe than those caused by natural menopause. Your health care team can suggest ways to cope with these side effects.
Options after menopause
If you have gone through menopause, the options include:
Aromatase inhibitor: This type of drug prevents the body from making a form of estrogen (estradiol). Examples are anastrazole, exemestane, and letrozole. Common side effects include hot flashes, nausea, vomiting, and painful bones or joints. Serious side effects include thinning bones and an increase in cholesterol.
Tamoxifen: Hormone therapy is given for at least 5 years. Women who have gone through menopause receive tamoxifen for 2 to 5 years. If tamoxifen is given for less than 5 years, then an aromatase inhibitor often is given to complete the 5 years. Some women have hormone therapy for more than 5 years. See above for more information about tamoxifen and its possible side effects.
Targeted Therapy for Breast Cancer
Some women with breast cancer may receive drugs called targeted therapy. Targeted therapy uses drugs that block the growth of breast cancer cells. For example, targeted therapy may block the action of an abnormal protein (such as HER2) that stimulates the growth of breast cancer cells.
Trastuzumab (Herceptin®) or lapatinib (TYKERB®) may be given to a woman whose lab tests show that her breast tumor has too much HER2:
Trastuzumab: This drug is given through a vein. It may be given alone or with chemotherapy. Side effects that most commonly occur during the first treatment include fever and chills. Other possible side effects include weakness, nausea, vomiting, diarrhea, headaches, difficulty breathing, and rashes. These side effects generally become less severe after the first treatment. Trastuzumab also may cause heart damage, heart failure, and serious breathing problems. Before and during treatment, your doctor will check your heart and lungs.
Lapatinib: The tablet is taken by mouth. Lapatinib is given with chemotherapy. Side effects include nausea, vomiting, diarrhea, tiredness, mouth sores, and rashes. It can also cause red, painful hands and feet. Before treatment, your doctor will check your heart and liver. During treatment, your doctor will watch for signs of heart, lung, or liver problems.
RELATED READING:
4 Ways Breast Cancer Treatment Has Recently Improved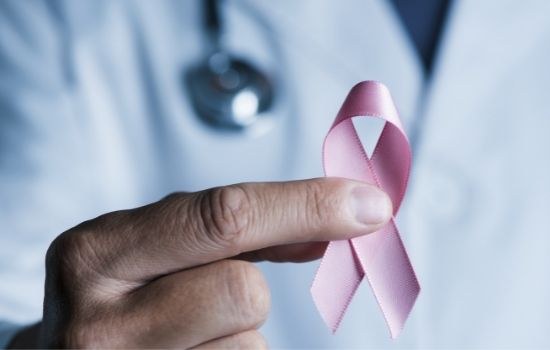 Immunotherapy for Breast Cancer
Breast cancer cells can disguise themselves as healthy cells so the checkpoints on the cells don't work correctly to attack the cancer. Research has found a way to make our own immune systems fight cancer cells with the use of immunotherapy drugs.
There are a few different immunotherapies approved by the FDA for breast cancer treatment. These immune checkpoint inhibitors make it so that the patient's body is able to recognize cancer cells from healthy cells. By identifying the cancer cells the immune system can do its job and attack the unhealthy cells.
Immunotherapy has been found to be helpful for patients with triple-negative breast cancer when combined with chemotherapy. Learn more about triple-negative breast cancer treatments in our blog.
Find Breast Cancer Treatment Near You
The comprehensive approach offered by our breast cancer team at Affiliated Oncologists combines the most advanced treatments with education and support services. Our oncologists specialize in breast cancer care and are ready to talk to you about your diagnosis and personalized treatment options based on your cancer type, stage, and hormone status. Our breast cancer centers are located throughout South Chicago, including Chicago Ridge, Mokena, Hazel Crest, Palos Heights, and Oak Lawn.