February 1, 2023
Is Surgery Required for Prostate Cancer Treatment?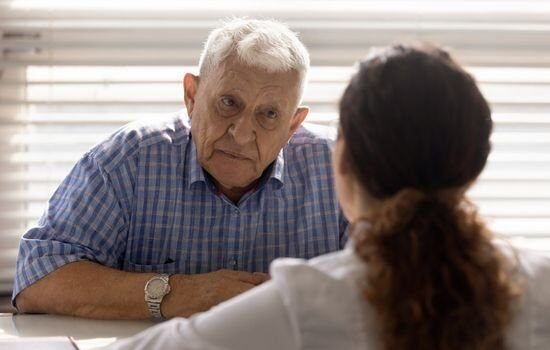 If you're diagnosed with prostate cancer, a urologist may discuss surgery to remove the prostate. This is called a prostatectomy. Before making a final decision about whether surgery is the best path forward, it's a good idea to talk with an oncologist about treatment options that could keep the prostate intact.
Typically, prostate cancer grows rather slowly, giving men and their families some time to consider different treatment options.
Do All Men With Prostate Cancer Require Surgery?
Unlike some other types of cancer where surgery is a standard part of the treatment plan for nearly all patients, prostate cancer is different. Many men are relieved to hear that there are several approaches to prostate cancer treatment. This is because prostate removal surgery can have some adverse side effects, such as urinary incontinence and erectile dysfunction.
There are some situations, especially if the cancer is rather large or aggressive, when surgery is required. For these men, other treatments are often given after the prostatectomy to be sure all cancer cells are killed.
Determining the Prostate Cancer Treatment That's Right For You
A prostate cancer diagnosis is confirmed through a biopsy. The results of the biopsy will also show a Gleason score. This gives the oncologist a sense of how different the prostate cells are compared to normal cells. A score of 6 or less on a scale of 1-10 means the cells are closer to normal, while a higher score indicates that the cells have changed a lot from their normal appearance and treatment is likely to begin right away.
For those with a lower Gleason score, treatment can often be delayed until the cancer has started to progress further. For Gleason scores of 7 (4+3) or above, treatment may need to begin.
Your oncologist will also consider your overall health condition and age when making a treatment plan recommendation, as well as the prostate cancer's stage. Earlier-stage prostate cancer is often treated without the use of surgery.

When is the Right Time to Choose a Prostate Cancer Treatment Plan?
Sometimes, doctors will recommend active surveillance for prostate cancer. This is usually recommended when cancer has been deemed slow growing and hasn't spread much or if the patient may have a hard time tolerating treatments.
Active surveillance means you don't start immediate treatment but adhere to a monitoring schedule. Every 3-6 months, the oncologist will run tests that will give indications as to whether the cancer is growing. Don't skip the follow-up tests!
Related Read: Why Wait to Start Cancer Treatment
Prostate Cancer Treatment Options Other than Surgery
If your prostate cancer doctor has determined that it is time to move forward with treatment, they may recommend one or more of the following treatments instead of surgery. For some men, surgery is still needed, along with one or more of the following treatments.
Radiation Therapy for Prostate Cancer
This treatment can often be used instead of surgery to kill off the cancer cells.
The two types of radiation therapy that are used for prostate cancer are:

External beam radiation therapy: Using a linear accelerator to precisely deliver beams of radiation, the patient can be treated over the course of several weeks. Efforts are made to protect nearby organs such as the bladder, rectum, and colon.
Internal radiation therapy (brachytherapy): Often referred to as "seeds," this type of radiation therapy is delivered inside the body. A thin tube is used to place the seeds in the prostate, where they need to be close to the cancer. The radiation is released over time. There's no need to remove the seeds later.
Hormone Therapy
Because male hormones cause prostate cancer to grow, hormone therapy can help stop cancer from growing. Standard prostate cancer hormone therapies include the following:

Luteinizing hormone-releasing hormone (LH-RH) agonists can help prevent testosterone production.

Antiandrogens block the action of male hormones.
Often, hormone treatment is recommended when cancer has spread to other parts of the body. For some men, it can be controlled for two or three years, but for others, cancer may have a much shorter response time to hormone therapy. When this happens, the cancer grows with very little or no male hormones, making hormone therapy alone no longer helpful, and another treatment may be needed.
Targeted Therapy for Prostate Cancer
Targeted therapy is its own category of drugs. Each targeted therapy focuses on a specific function that will cause cancer cells to no longer reproduce. For prostate cancer, PARP inhibitors are used as a targeted therapy. PARP (poly(ADP)-ribose polymerase) enzymes are required to repair damaged DNA inside cells. By blocking the PARP pathway for cancer cells, the enzymes are not able to reach them, and as a result, the cancer cells die.
Chemotherapy: Rarely Used for Prostate Cancer
This type of treatment is usually only recommended for more advanced prostate cancer that has spread to other areas of the body or when cancer doesn't respond to other types of treatment. It's rarely used as a first-line therapy for prostate cancer.
Clinical Research Trials for Prostate Cancer
Cancer research is constantly seeking new ways to treat patients in a way that produces better outcomes and reduces side effects. Affiliated Oncologists participate in clinical trials through Sarah Cannon Research Institute (SCRI), a joint venture with US Oncology Research, making them available to patients in the South Chicago suburbs. Some patients may qualify to participate in a trial. Your oncologist will talk with you about this if it applies. You won't be added to a clinical trial without your consent.
Which Prostate Cancer Treatment Is Best For You?
If you've recently been diagnosed with prostate cancer, you're probably relieved to hear that surgery isn't the only option for treatment. Although treatment may not be needed right away, a plan can be put in place to know you are on the right start to your treatment journey. We are happy to help our patients find the best prostate cancer treatment and offer various advanced treatment options as well as a second opinion on treatment recommendations at Affiliated Oncology, located in the suburbs of South Chicago.
We know that every patient is different and requires a personalized treatment approach. Finding out the details of your diagnosis and doing research can help empower you and ease some of the anxiety that comes with a cancer diagnosis. Schedule your consultation with one of our prostate cancer specialists at our cancer centers in Chicago Ridge, Mokena, Hazel Crest, Oak Lawn, and Palos Heights, IL.
Categories: Prostate Cancer